Posted on January 22nd, 2019
Our latest editorial in this month's Western Living is a beautiful example of thoughtful design in an area that is often overlooked, the staircase. Designer Ami McKay of Pure Design chose a custom pattern from our terracotta specialist, Tabarka to elevate her client's stair risers. In a house of bright whites and plenty of natural light, this stunning tile pops with its subtle design lending Spanish flare to this family's home.
Thinking of renovating a space in your home? Stop by our showroom to chat with our friendly staff about your next project and see our extensive collection of tiles! For more inspiration, check out our Instagram and Facebook pages for a preview of some of our projects and newest arrivals.
Found In: Awards & Achievements, Blog, News
Ami McKay, custom build, custom tile, hand painted tile, handmade tile, interior design, PureDesign, renovate, residential, Tabarka, terracotta, tile staircase, tiled stairs, western living
Posted on September 15th, 2017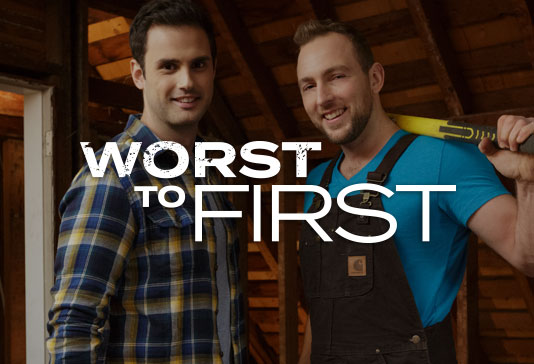 Tune in on Saturday at 8 p.m. ET/PT on HGTV Canada to see World Mosaic Tile featured in the latest episode of Worst to First.
Here's a sneak peek of the tile used for the stunning bathroom remodel.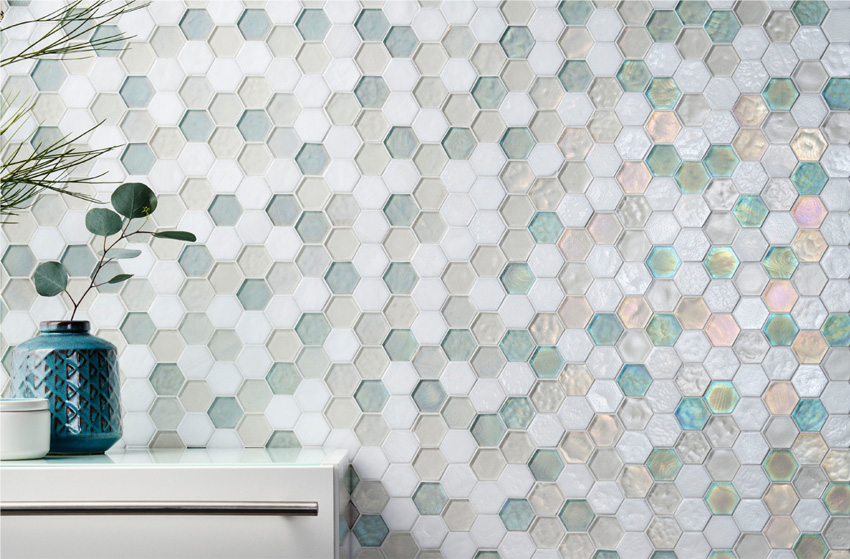 Muse in Atmosphere Blend
Shingle Mosaic in Horizon
Posted on February 23rd, 2015
A sneak peek of tonight's all new episode of Love It or List It Vancouver featuring the beautiful Jillian Harris and our hand-crafted terracotta hexagons.
Good luck Todd, you're gonna need it!
Posted on February 16th, 2015
 You will love what Jillian Harris has done with our tile on all new episodes of Love It or List It Vancouver, now airing on the W-Network on Monday nights!
From bathrooms, to feature walls, to kitchen backsplashes, celebrity host Jillian Harris has hand picked some of her favorite World Mosaic tile to feature on the hit show Love It or List It Vancouver. We love how Jillian has used glass tile, porcelain tile as well as natural stone in order to make every space truly unique.
Shown in this sneak peek photo is Spring Fling, a hand-crafted, recycled glass tile by Oceanside. This is a lovely blend of colours that will bring a clean pop of colour to any space. Not a fan of yellow? No problem. All Oceanside glass tile is completely customizeable so you can make your own colour blend in order to match your own tastes and personality.
Posted on September 25th, 2014
Introducing the new Deco d'Antan wall and floor tile collection.
This unique collection exclusive to World Mosaic Tile combines functionality with contemporary sophistication making it the perfect tile for any space. Ideal for both residential and commercial projects, a variety of looks can be achieved using the large selection of colours and patterns. This luxurious Italian porcelain can demand attention or be a soothing backdrop depending on the colours and patterns used.
Deco d'Antan is characterized by an array of interesting patterns that when grouped together create a spectacular backdrop. The 5 patterns range from geometric to floral influenced and are available in 5 colours.
There are a variety of options when choosing a layout for the mixed pattern. Choose to be consistent with the design or be creative and lay the tiles in horizontal or vertical stripes. Why not group a few of the same patterns together or even mix up the colour options?
Also in stock at World Mosaic Tile is the Etoile pattern that can be purchased separately in a 24×24 in Blanc Noir, Sable Noir or Noir; and the 8×8 in Noir or Blanc.

Many prominent interior designers in Vancouver are already creating buzz around this unique porcelain. Take a look for yourself at World Mosaic Tile or check out our Pinterest page devoted to Deco d'Antan for installation ideas!
Posted on April 24th, 2014
Is the tile on Love It or List It Vancouver giving you tile envy? Get it at World Mosaic Tile!
All new episodes of Love It or List It Vancouver have started up again on the W-Network this month. As always celebrity interior designer Jillian Harris has impeccable taste in both fashion and interior design which definitely shows in Season 2. Good luck Todd, getting the homeowners to "List It" with the tile on Love It or List It Vancouver being from World Mosaic!
Jillian and her team with the help of our tile experts at World Mosaic Tile hand picked tile for all the spectacular backsplashes, unique feature walls, cozy fireplaces and stylish bathrooms featured on the show.
Have you fallen in love with the tile on Love It or List It Vancouver? No problem! Contact World Mosaic Tile in Vancouver to get your very own!
There are still plenty of episodes that are yet to be aired so make sure you tune in to the W-Network every Wednesday at 10pm to see the newest home reveals! 
Posted on March 20th, 2014
Oceanside has added a brand new palette to their glass tile!

Oceanside has added a new palette of blue glass tile to their already colourful glass tile selections. Inspired by the ocean in California, where Oceanside calls home, 6 new blends have been created: Cypress Bay, Lagoon, Sundowner, Cool Waters, Indigo and Breathe. Inspired by where the ocean meets the land and sky, and the mysterious deep depths of the sea, these new glass mosaics will enhance any project from a kitchen or bathroom backsplash to a feature wall in the bathroom or a shower insert.

Of course, like all of Oceanside's products these new colours are a sustainable glass made from curb-side recycled bottles. So not only will they make your project look amazing, you can also feel great about buying a green product! Get your own Oceanside Glass Tile at World Mosaic Tile in Vancouver today!


Be sure to check out more of our blue glass tile on our Pinterest page featuring our glass products. Click here!
Posted on March 12th, 2014
World Mosaic Tile is excited to announce that Oceanside Glass Tile has added new patterns to their Tessera collection!
Tessera, a collection that has been Oceanside's most popular for 18 years has a new addition to the family: 4 equally unique and fashion forward patterns. As always these glass tiles are available in a variety of stylish Oceanside colours and blends to suit your specific project and taste.
River takes the 1×2 offset pattern to the next level. It mixes short and tall, wide and skinny rectangles for added interest. This is a great product for a kitchen backsplash, bathroom backsplash or a vertical tile feature wall in a shower.
Pave is a modern take on the trending Morrocan look. Install on your backsplash or a full wall for a more dramatic affect.
Fez is a geometric pattern that will keep you guessing. Is it flowers, stars or snowflakes? You decide. Drench a wall in your bathroom with Fez- you will never want to leave the room.
Kaleidoscope is another geometric that you will fall in love with right away. Everyone at World Mosaic has already fallen head over heels. Funky up your space by using a custom palette of vibrant colours for this pattern or use softer colours to add just a touch of personality.
Check out Oceanside's website for more fabulous patterns and colours or come into World Mosaic in Vancouver to talk to one of our glass tile experts!
Posted on December 18th, 2013
Curious what Jillian Harris' backsplash is?
The Secret Is Out!
Host of Love It or Lost It Vancouver and Star of the Bachelorette, Jillian Harris has World Mosaic's Avignon Mini as her kitchen backsplash.
Avignon is one of the hottest new trends for tile in 2014.  We love the elegance and character it brings to any room.
The Avignon Mini is also available in buttercream and black matte.  Avignon Large (6″) is available in cream, white and buttercream. All available exclusively at World Mosaic Tile Vancouver.
If you love this shape Contact us or check out our Pinterest board "For the Love of Arabesque" or "Our Products" for more inspiration and ideas.
Posted on July 4th, 2013
Good afternoon! Have you heard about our latest green product? It arrived last week, it's our very own Italian patio tile!
Watch out for our summer SALE next week where this beautiful tile could be an even better bargain!
World Mosaic's patio tile is a hugely versatile and practical solution for your own patio. It's special because it can be used straight away, installed quickly without joints on grass, gravel and sand, that means no cement!
It's perfect for creating your next relaxing area outside. This paving tile is porcelain with almost no maintenance and super strong. What is there not to like?