Posted on June 11th, 2019
           We are pleased to welcome three new Walker Zanger collections to our South Granville showroom. Curated Elegance is a series of exclusive stone tiles that take natural stone to a new level of grandeur, utilizing colours that work in gracious harmony to deliver a sophisticated design experience.
"Natural stone is one of the earth's few gifts that artisans can skillfully call our attention to through superior craftsmanship" – Walker Zanger
Whether you seek the geometric serenity of Studio Moderne Stone, the contemporary nostalgia of Fragmenta Terrazzo, or the universal opulence of Marble Luxe, this series will energize and unify your designs as ancient craft techniques are revived into modern styles with beautifully natural colours.
Studio Moderne Stone
Designed exclusively for Walker Zanger by noted interior designer, Michael Berman, this revitalized collection offers a fresh take on dimensional marble tiles and mid-scale mosaics. Keeping in the theme of large format and architectural designs, the patterns and shapes are elevated by stones of grey, blue, and brown. Inspired by Hollywood Regency, Art Deco, and Classic Modernism, the bold architectural designs of Studio Moderne Stone transcend the boundaries of the kitchen and bathroom.
Marble Luxe
A superior decorative material for millennia, marble is the discerning choice for residential, retail, and commercial design. Cut from large blocks usually reserved for slabs, Marble Luxe offers the highest grade of each type of stone in the collection, in a premium size (18" x 36") and minimal thickness (3/8") for easier installation. A particular standout is the Turquoise Luxe, with its truly unique green-blue colour.
The beautiful story of terrazzo dates back to early Greek and Egyptian times. The ancient art of combining marble fragments and cement reached the height of its glory in 16th and 17th century Venice, and found a resurgence in popularity in the 1930's and 40's. Today, terrazzo is once again enjoying a renewed admiration, rightfully earning a place amongst classic design.
Walker Zanger has partnered with one of Italy's oldest family-owned terrazzo makers, offering the highest quality while masterfully balancing ancient craft techniques with modern production processes. The end result is two colour-ways offered in one large format (24" x 24" x 3/8") size.
For more on Curated Elegance, visit us in our showroom to see and touch these stunning collections. Our helpful sales staff will work with you to design your next dream space! For more inspiration, check out our Instagram and Facebook page to preview our products and see our newest arrivals.
Found In: Featured product
3-d tile, backsplash, bathroom, Blue Marble, cararra, custom build, custom tile, dimensional tile, floor tile, Green Marble, interior design, kitchen, limestone, marble, mosaic, renovation, stone, terrazzo, tile, Walker Zanger
Posted on February 19th, 2019
Chapter 14, The Press, the newest collection from our California tile company, Jeffrey Court is now in our South Granville showroom. As the name suggests, The Press draws inspiration from the great American newsrooms of the early 20th century. The foundational element of this collection is its 5/8" hexagon – reminiscent of a single dot of ink on a page. By using this shape, The Press is able to recreate patterns and designs congruent with architecture and schemes often found in entry ways, thresholds, and floors of shops and businesses of the time.
The Press includes 4 repeating mosaic patterns appropriately named Herald, Tribune, Daily, and Union and come in 13.125" X 15.375" sheets. This chapter takes the time and necessary patience out of the tile setting process by recreating popular styles and patterns that would otherwise be tedious and time consuming. Four solid colours, black, white, grey, and navy, the foundational colours found in print, round out this collection and are available in 12" x 12.25" sheets.
Unlike ceramic tile that was often used in the early 1900's, The Press uses a special pressing and firing process similar to porcelain to create these small but robust glass hexagons. The end result is an ultra-smooth, full-bodied, frosted finish. The durability of this chapter makes it suitable for any wall or floor installation.
For more on this chapter, visit us in our showroom to see and touch this stunning collection. Our helpful sales staff will work with you to see how this chapter could work for your next project! For more inspiration, check out our Instagram and Facebook page to preview our products and see our newest arrivals.
Found In: Blog, Featured product
backsplash, bathroom, black, blue, classic tile, custom build, custom tile, floor tile, glass tile, grey, hexagon, interior design, jeffrey court, kitchen, mosaic, pennyround, wall tile, white
Posted on September 5th, 2017

Posted on February 23rd, 2015
A sneak peek of tonight's all new episode of Love It or List It Vancouver featuring the beautiful Jillian Harris and our hand-crafted terracotta hexagons.
Good luck Todd, you're gonna need it!
Posted on February 16th, 2015
 You will love what Jillian Harris has done with our tile on all new episodes of Love It or List It Vancouver, now airing on the W-Network on Monday nights!
From bathrooms, to feature walls, to kitchen backsplashes, celebrity host Jillian Harris has hand picked some of her favorite World Mosaic tile to feature on the hit show Love It or List It Vancouver. We love how Jillian has used glass tile, porcelain tile as well as natural stone in order to make every space truly unique.
Shown in this sneak peek photo is Spring Fling, a hand-crafted, recycled glass tile by Oceanside. This is a lovely blend of colours that will bring a clean pop of colour to any space. Not a fan of yellow? No problem. All Oceanside glass tile is completely customizeable so you can make your own colour blend in order to match your own tastes and personality.
Posted on January 7th, 2015
Introducing the new Walker Zanger, Duquesa collection now available at World Mosaic Tile!
Duquesa is an assortment of hand painted terracotta inspired by Persian textiles, Portugese tiles and Moroccan mosaics. This collection will bring elegance and interest to your kitchen backsplash, make a statement as a feature wall or provide dimension to your fireplace. Come into World Mosaic to see the many more patterns and colours available in this fabulous new collection!
Check out this collection on Walker Zanger's website for additional photos and installation ideas.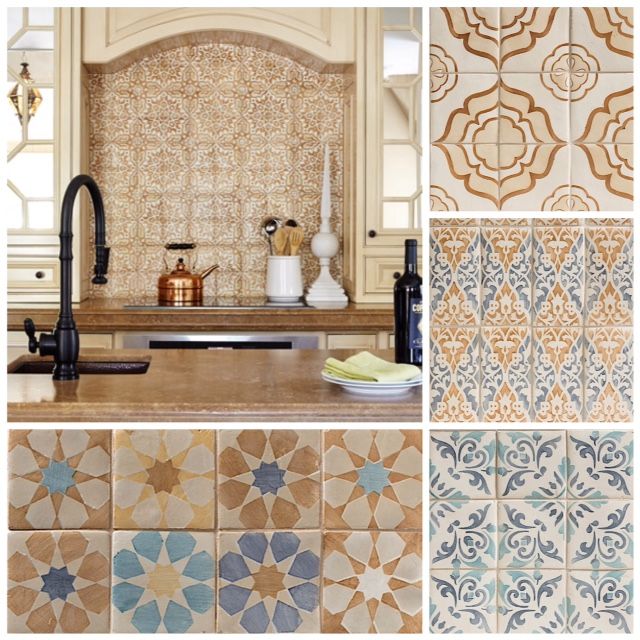 Posted on September 25th, 2014
Introducing the new Deco d'Antan wall and floor tile collection.
This unique collection exclusive to World Mosaic Tile combines functionality with contemporary sophistication making it the perfect tile for any space. Ideal for both residential and commercial projects, a variety of looks can be achieved using the large selection of colours and patterns. This luxurious Italian porcelain can demand attention or be a soothing backdrop depending on the colours and patterns used.
Deco d'Antan is characterized by an array of interesting patterns that when grouped together create a spectacular backdrop. The 5 patterns range from geometric to floral influenced and are available in 5 colours.
There are a variety of options when choosing a layout for the mixed pattern. Choose to be consistent with the design or be creative and lay the tiles in horizontal or vertical stripes. Why not group a few of the same patterns together or even mix up the colour options?
Also in stock at World Mosaic Tile is the Etoile pattern that can be purchased separately in a 24×24 in Blanc Noir, Sable Noir or Noir; and the 8×8 in Noir or Blanc.

Many prominent interior designers in Vancouver are already creating buzz around this unique porcelain. Take a look for yourself at World Mosaic Tile or check out our Pinterest page devoted to Deco d'Antan for installation ideas!
Posted on May 16th, 2014
Looking for an easy DIY project this May long weekend? Install World Mosaic's Patio Tile to get your yard summer-ready!
This thick, frost proof porcelain can be installed quickly and easily and enhances any environment. There are countless ways to lay and use the tile such as pathways across gardens, placing on balconies or terraces, creating a residential or commercial patio space, adding walkways on the beach, installing around your poolside.
Why World Mosaic's Patio Tile?
Save money- no skilled labour required. Use our DIY 4 step process
Use right away– immediately usable after installation
Safe- anti-slip and anti-skid. Drainage of water is facilitated
Durable- Thick porcelain tile that is resistant to frost and wear caused by high traffic
Reusable- Can be reused and reinstalled over time without a bricklayer
Maintenance Free
DIY: 4 Easy Steps
Arrange tile as desired
Remove underlying grass
Pour gravel or sand if desired
Place the tile
It's in stock at World Mosaic so pick up yours today! Don't forget to bring in your 30% off Homeshow Coupon!
Posted on March 20th, 2014
Oceanside has added a brand new palette to their glass tile!

Oceanside has added a new palette of blue glass tile to their already colourful glass tile selections. Inspired by the ocean in California, where Oceanside calls home, 6 new blends have been created: Cypress Bay, Lagoon, Sundowner, Cool Waters, Indigo and Breathe. Inspired by where the ocean meets the land and sky, and the mysterious deep depths of the sea, these new glass mosaics will enhance any project from a kitchen or bathroom backsplash to a feature wall in the bathroom or a shower insert.

Of course, like all of Oceanside's products these new colours are a sustainable glass made from curb-side recycled bottles. So not only will they make your project look amazing, you can also feel great about buying a green product! Get your own Oceanside Glass Tile at World Mosaic Tile in Vancouver today!


Be sure to check out more of our blue glass tile on our Pinterest page featuring our glass products. Click here!
Posted on March 12th, 2014
World Mosaic Tile is excited to announce that Oceanside Glass Tile has added new patterns to their Tessera collection!
Tessera, a collection that has been Oceanside's most popular for 18 years has a new addition to the family: 4 equally unique and fashion forward patterns. As always these glass tiles are available in a variety of stylish Oceanside colours and blends to suit your specific project and taste.
River takes the 1×2 offset pattern to the next level. It mixes short and tall, wide and skinny rectangles for added interest. This is a great product for a kitchen backsplash, bathroom backsplash or a vertical tile feature wall in a shower.
Pave is a modern take on the trending Morrocan look. Install on your backsplash or a full wall for a more dramatic affect.
Fez is a geometric pattern that will keep you guessing. Is it flowers, stars or snowflakes? You decide. Drench a wall in your bathroom with Fez- you will never want to leave the room.
Kaleidoscope is another geometric that you will fall in love with right away. Everyone at World Mosaic has already fallen head over heels. Funky up your space by using a custom palette of vibrant colours for this pattern or use softer colours to add just a touch of personality.
Check out Oceanside's website for more fabulous patterns and colours or come into World Mosaic in Vancouver to talk to one of our glass tile experts!