Posted on July 30th, 2014
We are so excited to have more NEW stock items at World Mosaic Tile.
Introducing Calacatta Bianchi
We have been searching for quite a while looking for the perfect porcelain Calacatta. It has been quite the journey to find a porcelain that correctly conveys the timeless elegance and luxurious feel of a Calacatta marble.
Alas, we have found the perfect Calacatta look-alike! Introducing the elegant Calacatta Bianchi. The veining and colouring of the Calacatta Bianchi is truly unique, similar to that of the natural stone.
This classic tile from Italy is perfect for floors, bathroom shower enclosures or even feature walls. With two sizes in stock (17.5×17.5 and 9.5×17) the looks you can create are endless.
New Ardoise Sizes
Our Ardoise collection has been incredibly popular since we brought it in earlier this year from Italy, so it was an easy decision to add additional sizes to our stock.
Ardoise is a porcelain that took the timeless natural element, slate and modernized it. Unlike slate, this porcelain tile requires no maintenance and is durable enough for outdoor use. We have four colours in stock that are sure to bring timeless style to any space. Some sizes available are 2×2 mosaic, 12×24 and 18×18.
Here are a few fabulous installation photos of the colours available. It's hard to believe that the Ardoise collection is porcelain and not natural stone!
Come into World Mosaic Tile in Vancouver for a sample of these gorgeous tiles before we sell out- they are going fast!
Posted on July 29th, 2014
Showroom: Monday to Friday 9-5
Warehouse: Monday to Friday 8-4
Have a fantastic summer!!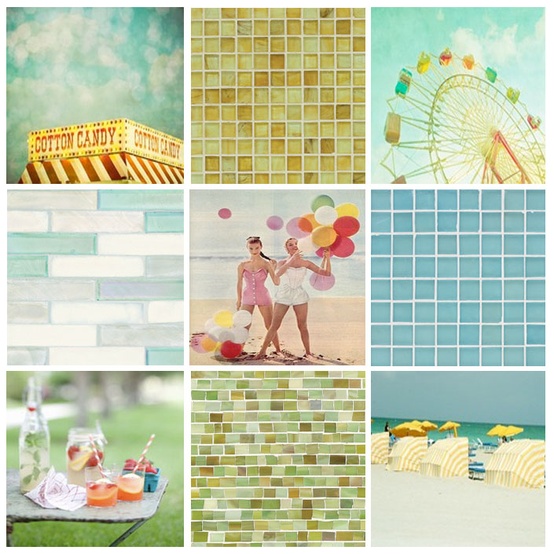 Posted on July 9th, 2014
Due to popular demand we have brought in more 2×8 white subway tile and mini avignon. We couldn't resist bringing in some vibrant colours too!
Introducing NEW stock colours for our popular elongated subway: Red, Chinese Blue, Pistachio and Bottle Green. We couldn't wait for these items to come in from Brazil and they finally just arrived! These new elongated tiles are fantastic for installations on a kitchen backsplash, shower enclosure, feature wall or even wainscoting. There are so many ways to mix and match the colours and to create patterns. Here are a couple of ideas to try with our 2×8′s!
Imagine bottle green in a herringbone pattern for a feature wall…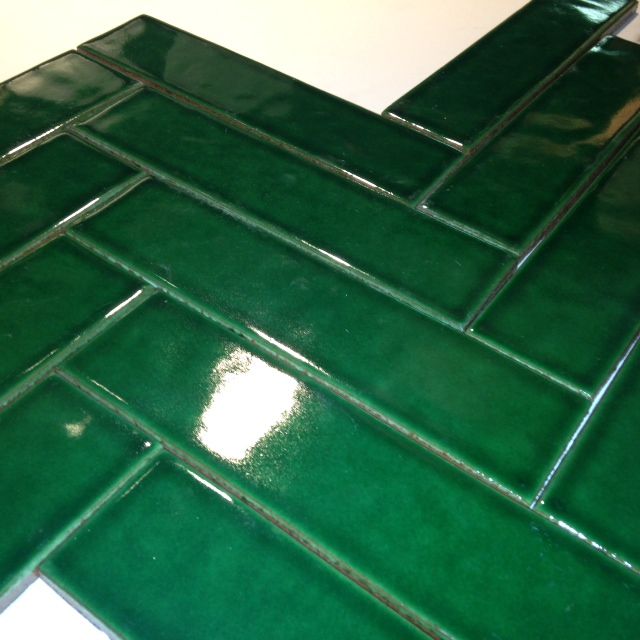 …or white off-set to the third for a backsplash…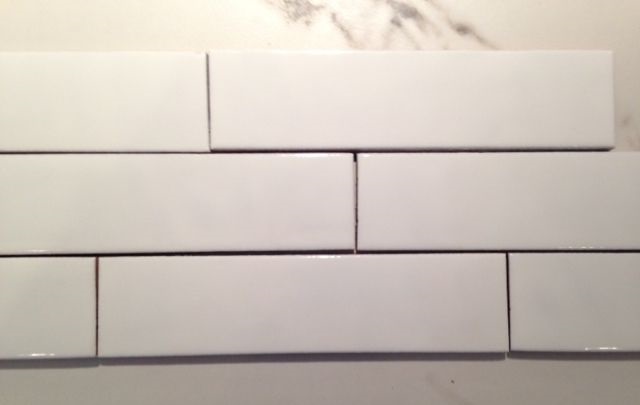 ….or a mixture of Chinese Blue and White for wainscoting…
… How about straight-set in a shower to add drama to a bathroom?
The possibilities to be creative with these are endless. Come into World Mosaic for more installation ideas for these amazing hand-crafted ceramic subway tiles!
Posted on June 26th, 2014
The weather is heating up in Vancouver so World Mosaic is celebrating with a Patio Tile Sale! Receive 20% off all Patio Tile while selection lasts.
Our patio tile is durable, maintenance free and best of all requires no skilled labour to install. An easy DIY project that will make a dramatic improvement to your yard. Hurry in while selection lasts!
Posted on June 18th, 2014
See some of the hottest trends in design and tile on Love It or List It Vancouver!
Wednesday is our favorite day of the week as we love to see our tile featured on the hit design show Love It or List It Vancouver!!
This week Jillian is bringing out all her design tricks, including hand picked World Mosaic tile, to convince the homeowners Karin and Bruce  to "Love It". It's going to be a difficult decision for Karin and Bruce, as Jillian always does a superb job.
Go Team Jillian!!!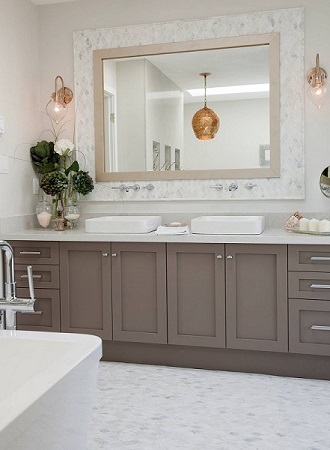 Here is our most popular photo on Houzz from the last season of Love It or List It Vancouver. With a spectacular marble floor and trim around the mirror, matched with exquisite fixtures, we can definitely see why its been shared more than 700 times! For this and more Love It or List It Vancouver photos check out our Pinterest page devoted to Love It or List It Vancouver tile. We have more photos coming soon, so follow us to get up to the minute Love It or List It Vancouver eye candy!
Posted on June 11th, 2014
Love It or List It Vancouver Promotion at World Mosaic Tile. Tell us your favorite episode and get 20% OFF your purchase!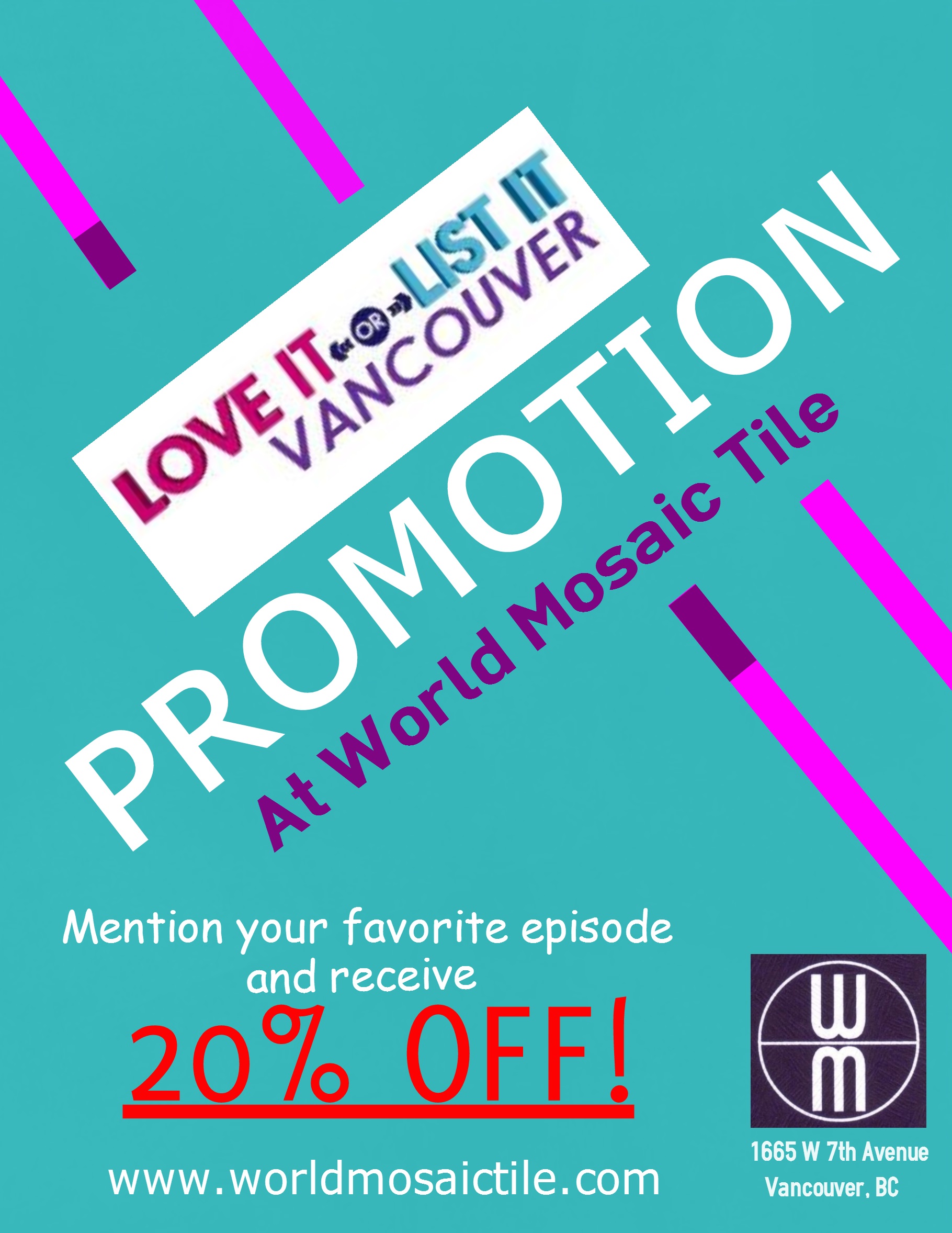 Posted on June 4th, 2014
You don't want to miss this one!!
You don't want to miss this weeks episode of Love It or List It Vancouver airing tonight!!! Everyone at World Mosaic Tile has been dying to see this reveal. We can't wait to see how Jillian has put everything together!
There are lots of our gorgeous tiles on this episode including our amazing penny rounds installed into a gradient. Here's a little sneak peek!
Love It or List It Vancouver airs on the W-Network every Wednesday at 10pm. It's definitely worth staying up for!
Posted on June 3rd, 2014
Look what we just got in at World Mosaic Tile!
World Mosaic just got some NEW in-stock porcelains fresh from Italy. You are going to love these luxury imported tiles!
Just in time for summer, we have added a new colour to our patio tile collection. Thick in warm is similar to a limestone, but unlike a real limestone it is maintenance free! For more info about our Patio Tile and other colours be sure to check out our article on Patio Tile!
Due to popular demand we have brought in two additional colours for our Ardois collection, Ecru and Noir. A fresh take on slate, these tiles will bring bold yet timeless style to any space. This tile is great for floors and walls. Check out the other two colours available HERE.


Posted on May 28th, 2014
Tune in to the W-Network at 10pm Wednesdays for the latest episodes of Love It or List It Vancouver with hosts Jillian Harris and Todd Talbot.
Have you recognized any of the tiles so far on the show? It may be because all the Love It or List It Vancouver tiles are by World Mosaic Tile!! Jillian has hand-picked some of our newest and on-trend tiles for backsplashes, fireplaces, shower enclosures, floors and more. She has done an amazing job so far and has definitely given Todd quite the challenge!
Here are a few of the tiles from Love It or List It Vancouver, Season 2 so far. For more photos check out our Pinterest page devoted to Love It or List It Vancouver's tile here.

Posted on May 16th, 2014
Looking for an easy DIY project this May long weekend? Install World Mosaic's Patio Tile to get your yard summer-ready!
This thick, frost proof porcelain can be installed quickly and easily and enhances any environment. There are countless ways to lay and use the tile such as pathways across gardens, placing on balconies or terraces, creating a residential or commercial patio space, adding walkways on the beach, installing around your poolside.
Why World Mosaic's Patio Tile?
Save money- no skilled labour required. Use our DIY 4 step process
Use right away- immediately usable after installation
Safe- anti-slip and anti-skid. Drainage of water is facilitated
Durable- Thick porcelain tile that is resistant to frost and wear caused by high traffic
Reusable- Can be reused and reinstalled over time without a bricklayer
Maintenance Free
DIY: 4 Easy Steps
Arrange tile as desired
Remove underlying grass
Pour gravel or sand if desired
Place the tile
It's in stock at World Mosaic so pick up yours today! Don't forget to bring in your 30% off Homeshow Coupon!