Posted on December 6th, 2013
Word is on the street that turquoise is the new "it" colour for backsplash
It isn't hard to believe when you see this stunning kitchen in the Ikea ad in the newest Canadian House & Home. Vancouver designer Janine Love hand-picked these turquoise rounds from World Mosaic, to finish off this modern kitchen with a splash of soft colour.
We have lots more ideas for this new trend that we are excited to share with you, so come visit our showroom for inspiration for your own kitchen.
Posted on November 29th, 2013
We know how busy the holidays can get, so we are extending our backsplash sale for one more week so everyone can have the chance to freshen up their kitchen for the holidays.
All backsplash is included in the sale, even special order. See you in our showroom!
Posted on November 22nd, 2013
It's finally here!
The new Tabarka collection at World Mosaic is a handcrafted terracotta from Arizona. Every unique pattern can be customized by colour to suit your own space and style. Stay tuned for more details on our website or visit World Mosaic in Vancouver to take a look at these gorgeous and incredibly unique handmade terracotta tiles.
Posted on November 8th, 2013
Freshen up your kitchen for the holidays with 25% off all backsplash!
World Mosaic has 25% off all backsplash in the showroom for the entire month of November. Make a statement this holiday by freshening up your backsplash with the help of our experts at World Mosaic. Hurry as the backsplash sale only lasts the month of November.
Posted on November 7th, 2013
Vancouver's Favorite TV show Love It or List It has partnered with World Mosaic! Be sure to watch for our tile installations designed by Jillian Harris every Monday and Wednesday on the W-Network. Don't worry if you missed an episode- you can see our latest creations on the Resource Guide on the W-network website and of course in our showroom!
Posted on November 6th, 2013
A modern take on our Antigua subway beveled tile.
This classical bistro kitchen by Ikea looks fabulous with its wall to wall subway tiles from Antigua. The pattern gives some funk to a classical tile and the colour brightens up the entire space. Check out the full kitchen in the latest publication of Canadian House & Home or the Ikea catalogue online. Come see us at World Mosaic for more fresh ideas to incorporate this stunning Antigua subway tile into your kitchen.
Posted on October 25th, 2013
Don't forget we are open 10 AM until 3 PM on Saturday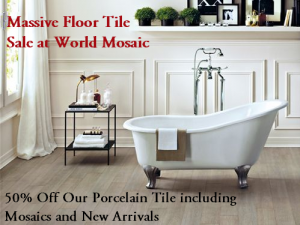 We are still offering 30-50% OFF our stock floor tile.
Posted on October 23rd, 2013
Have you seen World Mosaic's tile in the latest Ikea Kitchens?
Ikea's back splash brought to you by World Mosaic
We love this Kitchen found in Ikea's kitchen brochure online. It is Designed by Janine Love and Photographed by Stacey Brandford. This back splash is by Walker Zanger available exclusively at World Mosaic. Their Studio Moderne ceramic makes such a great statement and feature wall. It's colour and texture can be achieved with our help at World Mosaic so call in for our advice and we will be happy to make your kitchen back splash as irresistible as this one.
Posted on October 18th, 2013
We will be open on Saturday again.
We will continue to open Saturdays from 10 AM – 3 PM for the convenience of our customers. See you very soon!
Posted on October 17th, 2013
The October 2013 issue features our  Walker Zanger tiles…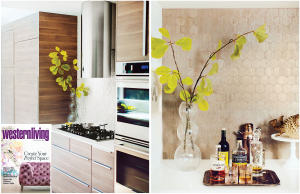 This October 2013 issue features Westernliving's food and travel editor Neal, and his wife Amanda's home, also Editor at WesternLiving. This space was styled by Janine Love. The Kitchen and Bar was finished using Walker Zanger's Vibe, lounge mosaic in White gloss and AnTeak reclaimed wood mosaic, all available exclusively at World Mosaic Tile (BC).
This renovation was done to transform the kitchen from small and dark, to bright, sleek and above all, practical. The back splashes used here are described by Amanda as; fun and on-trend yet something that will endure over time. The kitchen's white 're-invented' glossy back splash was chosen to give a 'fun, groovy '70s vibe'. The colours of the teak wood and bright whites are still fresh and zesty and keep this kitchen firmly in today's modern age.
Congratulations to the owners of this western home!